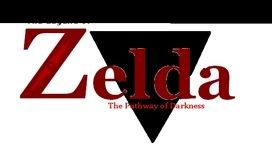 The Legend of Zelda: Path of Darkness
Part One
In the darkened depths of Hyrule, an evil God name Garogh lay dormant and forgotten by the people of the land. The unruly being lay, and as he stirred, he dreamed of what once was.
Long ago, when the three Goddesses descended upon the baron wasteland which they created to be Hyrule, Garogh, the evil God of Darkness ripped through the celestial barrier separating Hyrule from the heavens. And as the Three created Hyrule, Garogh crafted, with his own hands, the Dark World.
Before the three Goddesses fled to the heavens, they discovered a dark creation in existance and went to check upon it...They covered the darkness with a righteous light, surrounding the darkness and purifying the land. They christened this land the Golden Land and then ascended into the heavens. Garogh, broken and beaten, noticed the three create the symbol of majesty, the Triforce and, before its completion and his own downfall, he corrupted the Triforce itself and made one fatal alteration...
Many hundreds of years passed, during which many Hyrulian scholars, Hylian, Zora, Goron, and Subrosian alike wrote many chapters on which the Triforce was the item of discussion.
During this time, many people attempted to gain access to the sacred holding place of the Triforce of the Goddesses. In the attempt however, all fell under the spell of the Golden Land, and were seen no more.
Battles were fought, over who would attempt to enter the realm, hoping that victory in battle would prove to the Three that these warriors had earned the right to claim the powers of the Triforce but, like those before them, they too vanished and were seen no more.
Three Hundred years, later, on the dawning of war, the many beings of Hyrule are still vying for a chance at the Golden Power that resides in the Sacred Land....All but a young man named Link.
Tell me what you think!!!! I have this going on about 3 other boards right now, and people love it.