It's been a while since we got any official news about the upcoming sequel of Breath of the Wild. We went through the Nintendo Direct and the only new we got was Aonuma looking us in the eye to tell us that there wouldn't be any news about the game at this time. It's been a hard time dodging so many fake leaks and mountains made with any crumbs that outlets can get their hands on. This one though, straight from Nintendo's social networks.
According to their own translation, the released statement is the following:
Hello, I'm Eiji Aonuma, producer of the Legend of Zelda series. I have an update to share on the launch timing of the sequel to The Legend of Zelda: Breath of the Wild.




We previously announced that we were aiming for a 2022 release for this game. However we decided to extend our development time a bit and change the release to Spring 2023. For those of you who have been looking forward to a release this year, we apologize.




As previously announced, the adventure in this sequel will take place not just on the ground as in the previous game, but also the skies above. However, the expanded world goes beyond that, and there will be even a wider variety of features you can enjoy, including new encounters and new gameplay elements.




In order to make this game's experience something special, the entire development team is continuing to wok diligently on this game, so please wait a while longer.




That's all for today's announcement. Thank you.

Display More
In addition, they showed up a small video clip of the how the game is looking. There was mostly nothing new except for two very important details. I can show them in just one image: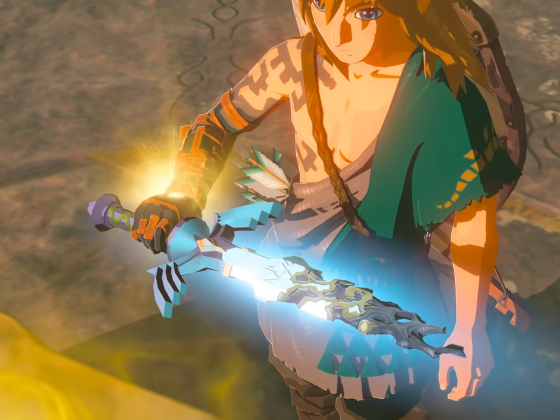 Finally, a shot with the front view of the character with the dark hand. we can clearly see the features corresponding with the same Link from Breath of the Wild. Other than his longer hair and change of clothes, it seems pretty much likely that this is the result of the experience exploring the underground area with Zelda in that reveal trailer.
Secondly, he is standing in front of a yellow source of energy and he unveils the Master Sword. We can clearly see that it is not in its normal state. We don't know if it's been nullified or if it serves another purpose at this time. Considering how much of the blade is missing is probably not good. Quests to restore the Master Sword are not new in the franchise.
So yeah, although brief, there's a lot of interesting stuff to discuss here.
What do you guys make of this picture?
How do you feel about it being delayed till Spring next year?